Decentralized Finance (DeFi) has become a leading industry in the financial sector. According to DeFi Llama, the industry has more than $250 billion in total value locked (TVL). This is a substantial amount considering that the industry was not in existent a few years ago. So, in this article, we will look at some of the best DeFi cryptocurrencies to invest in.
Curve DAO | CRV
Curve DAO (CRV/USD) is the native token for the Curve Finance platform. This is a multi-chain network that has grown to become the biggest DeFi platform in the world. According to DeFi Llama, Curve has a TVL of more than $22.2 billion. Curve has millions of users from around the world.
Curve DAO token has a total market capitalization of more than $1.7 billion, making it the 76th biggest cryptocurrency in the world. The token has jumped by more than 1,450% from its lowest level in November last year. This makes it one of its best-performing coins in the world.
The Curve DAO token price will likely keep rising because of its strong market share in the industry and the number of users using it. As shown below, the coin is approaching its all-time high and is being supported by the 25-day and 50-day moving averages.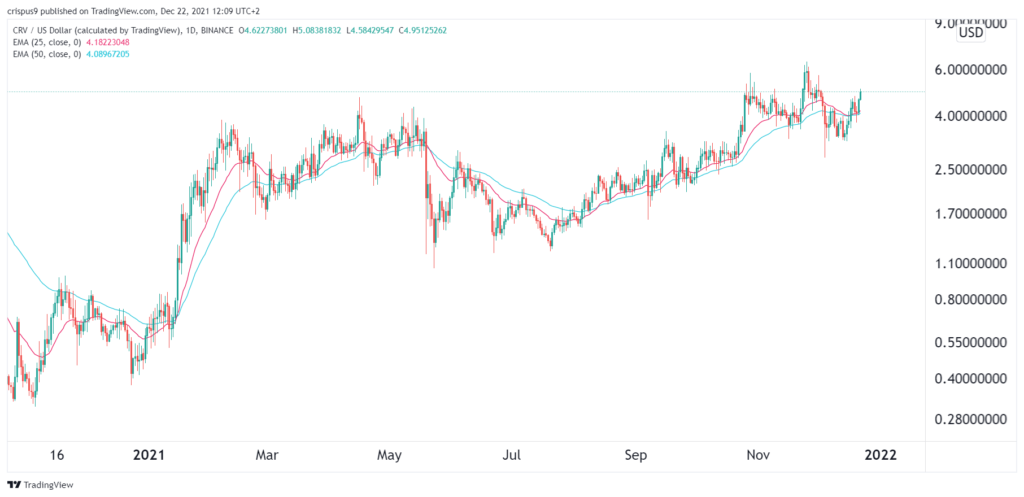 Maker | MKR
Maker (MKR/USD) is a leading DeFi platform that is best known for Dai, its stablecoin. Dai is a leading stablecoin that has a market capitalization of more than $8.9 billion. It is a stablecoin that is backed by the US dollar. In terms of its assets, only four other stablecoins are bigger: Tether, USD Coin, Binance USD, and TerraUST.
MKR is the native token for the MakerDAO ecosystem. Holders of the coin can vote on the key changes to the protocol.
In 2021, the MKR price jumped by more than 400% and its total market capitalization rose to more than $2.2 billion. It is the 71st biggest cryptocurrency in the world.
Aave | AAVE
Aave (AAVE/USD) is one of the leading DeFi platforms in the world. The main platform was built using Ethereum's network. In 2021, the developers built versions on Polygon and Avalanche. Today, Aave has a total value locked of more than $14.76 billion.
Aave is simply a platform where people can take collateralized loans in an anonymous way. On the other side, users can deposit their cryptocurrencies and earn interest.
The Aave price has risen by more than 150% in 2021 and there is a likelihood that its price will keep rising in the coming months.