The clock is ticking for the much-awaited Ethereum London hard fork set to go live on August 5.
Investors positioned themselves for the upgrade and expected rally pushing Ethereum above $2,700.
A break above $2,800 could trigger massive buy orders amid investor anticipation for gains above $3,000.
Ethereum price broke away from its peers and made an impressive run from $2,400 to levels above $2,700. The bullish leg came close to trading at $2,800, but a minor correction interfered with the bulls' mission.
At the time of writing, Ethereum trades around $2,700 while bulls put a fierce fight for gains heading to $3,000. Most short-term technical indicators have flipped bullish, implying that buyers have the upper hand. The latest upswing from $2,400 is believed to have resulted from investors positioning themselves ahead of the revolutionary London hard fork upgrade.
Ethereum London Hard Fork Will Go Live On August 5
According to ethernodes, the much-anticipated London hard fork is just eight hours away. It is supposed to occur on block 12,965,000. Node operators on the Ethereum blockchain have been getting ready for the upgrade, and ethernodes confirms that 75% are ready.
The Ethereum London Hard Fork is crucial mainly for implementing EIP-1559, one of the five proposals the upgrade would bring to the network. EIP-1559 aims at reducing gas fees that have been highly exorbitant to function on a base fee mechanism. Users will no longer need to pay more to prioritize their transactions. In addition to that, the fee collected would be sent to a non-recoverable wallet, where it is burned.
Ethereum Price Rally Takes Breather
Following the uptick to areas close to $2,800, Ethereum retreated to $2,700. Buyers are mainly focused on pulling Ethereum above $2,800. Perhaps at this level, massive buy orders would be triggered to support price action beyond $3,000.
Realize that the Moving Average Convergence Divergence (MACD) indicator has a bullish impulse. Ether has sustained this call to buy since July 20, but the uptrend was confirmed with the MACD crossing above the mean line. As long as this indicator continues with the upward movement within the positive region, bulls will have the upper hand.
ETH/USD 12-hour chart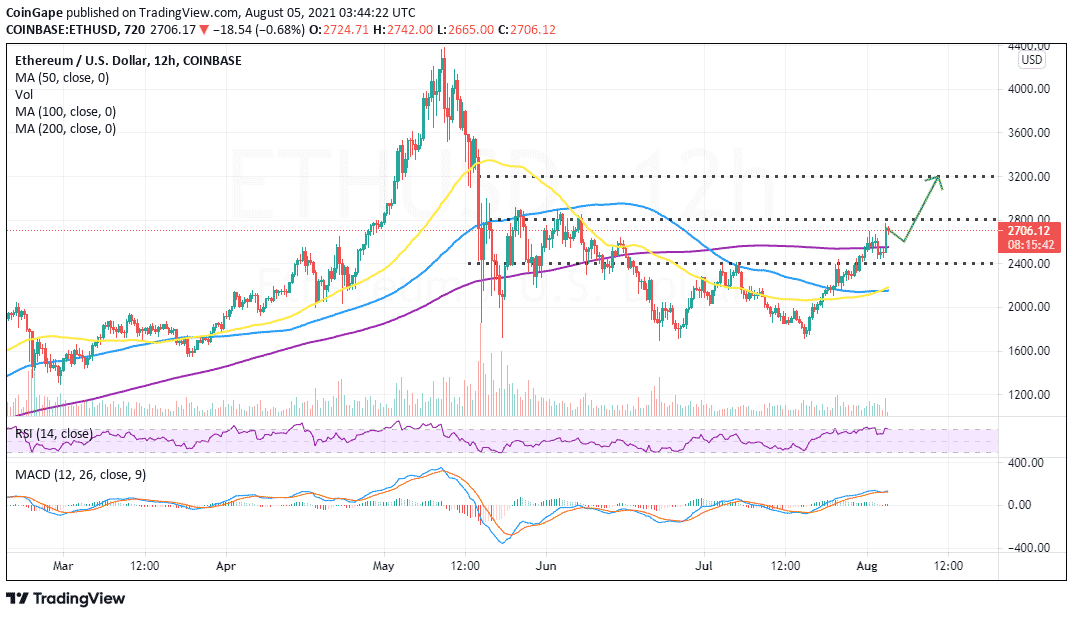 Buyers should also establish higher support, preferably at $2,700, which will allow them to comfortably execute the mission toward $3,000.
Ethereum Intraday Levels
Spot rate: $2.711
Trend: Bullish
Volatility: Growing
Support: 2,700 and $2,400
Resistance: $2,800 and $3,000