Avalanche (AVAX) has continued to impress as it has stayed at the top of the chart amongst the top 100 coins per highest price gains in the past 24 hours. While the uptrend stability of Bitcoin (BTC) is a factor that we cannot rule out for pushing the surging Avalanche token, a number of positive fundamentals has notably helped the growing retail adoption of the coin.
At the time of writing, Avalanche is up more than 27% to $38.57, printing a new weekly high. Since the token began its current uptrend back in August 17, the market bulls have notably beaten the core resistance particularly those at the $23.919 and $31.975 regions respectively. The energizing factor has kept the bulls on the buying spree as a new resistance point lies ahead at the $40.00 price level.
Are Bulls Energized Enough to Push Above this Lane?
The all-time high (ATH) of Avalanche (AVAX) is $59.94 according to CoinMarketCap. While the token, which powers a unique type of asset exchange in the decentralized finance world has this ATH price range as its medium term target, the bulls must first summon their buying strength to push above the resistance at $40.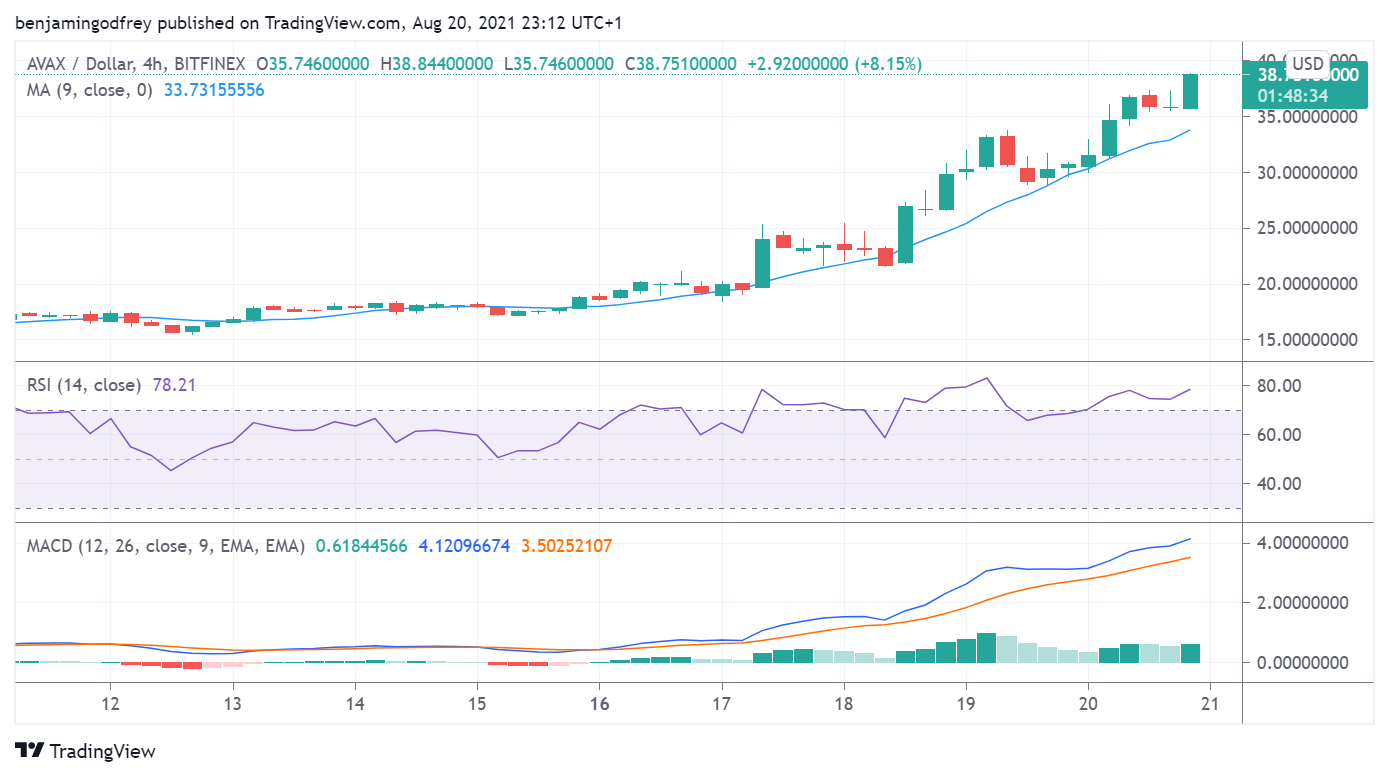 The AVAX/USD 4h Chart as seen on TradingView above shows a very tricky tilt for the DeFi token. The overbuying trend has placed the MACD line well stretched above the signal lin, while the RSI is also indicative of a compounded buying action. Should more buying pressure be exerted on AVAX at the current price and pace to push the coin beyond the $40 point, a massive greed will be unleashed with more buyers looking to cash in on the surging token.
This occurrence may drive the price of the coin toward the $45 to $50 range, albeit, this will be a perfect time for the bears to strike. A number of retail investors who perhaps bought the coin at its previous ATH may see a good price level to sell off and forfeit the pared losses. Just as seen on the price chart, this bear action may cause a price reversal.
For the AVAX/USD price performance, imminent selloffs at current prices will give the asset pair a mild stop at $30, and should the bulls succeed in their price discovery, a support may be formed at $40 for a more ambitious price runs